About the company
As an advanced online CFD and forex trading platform, Trustpac aims to provide CFD traders from around the world with a personalized trading experience (not currently available for EU residents). This broker boasts a proprietary trading platform with multiple trading instruments, features and trading tools that form together to create a cutting-edge, user-friendly service offer suitable for all traders of all experience levels.
Trustpac's client-centric approach and team of professional financial experts mean that transparency, security, and service are guaranteed. Trustpac wants to earn trust amongst the online trading community, and so it set out to create a secure and advanced trading environment where traders can gain access to useful information and use the information to make better informed trading decisions.

Trading CFDs
Trustpac offers a wide variety of CFD instruments on its platform. These include:
–          Cryptocurrencies
–          FX
–          Stocks
–          Indices
–          Futures
–          Commodities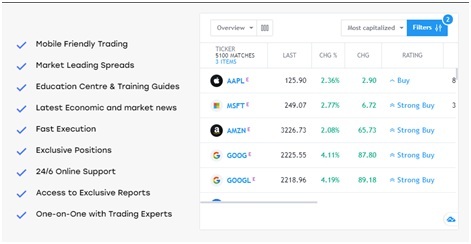 What makes Trustpac's offer even more attractive for traders are the competitive trading conditions that the broker offers, and these include leverage of up to 1:100 with flexible spreads and no trading commissions. These competitive trading conditioned are complimented by an easy sign in process, easy account funding, and an easy verification process. Furthermore, Trustpac is a platform that is equally rewarding for both beginner and experienced traders alike, even first-time traders.
Trustpac makes sure to provide dedicated customer support via phone or email, and also provides a comprehensive FAQ section on its website, where you can find all of the relevant support information to include phone numbers and contact details.
Platform
Trustpac has developed a proprietary platform that is a good fit for any CFD trader. The platform boasts a user-friendly interface, and is accessible form any device with any size screen, as this is a browser-based platform that is accessible from PCs, laptops, smartphones and tablets without the need for any complicated installation process.
The Trustpac platform is flexible and can be used at any time and from any device by simply logging into your account on the company's official website. This feature is of the highest importance for traders during periods of market volatility. This broker believes that traders should have access to trading tools and features that can significantly enhance the trading experience, and has set out to do just that with its platform.
Trading Tools
With Trustpac's Trading Tools, traders gain access to beneficial features such an economic calendar, market reports, and some of the latest market updates. Trustpac has also integrated a news section into the right side of the platform to allow traders to stay up to date with the latest market information.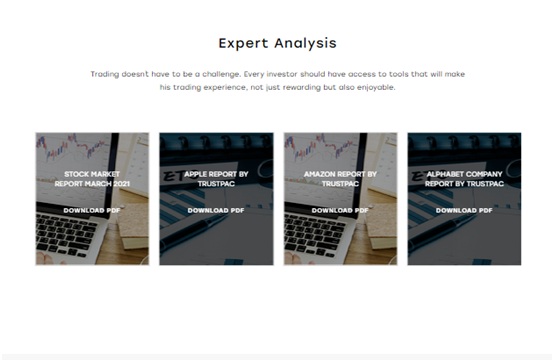 Trustpac is aware that traders experience varies from expert to beginners, and that beginner traders will need assistance with market analysis, and that is why the broker makes sure to provide useful content that is created and curated by a team of financial experts with years of experience in the online trading industry. Furthermore, the company has built a risk management tool into the platform, to allow traders to minimize the amount of risk they are exposed to with stop loss and take profit options, which are both requirements in the world of professional trading.
Pros and Cons
A large index of CFD asset classes
An integrated latest market news feature
A user and mobile friendly trading platform
Professional customer service
Low entry costs
Live chat feature still unavailable
Services are provided only in English
Traders who reside in the EU aren't eligible to trade
Summary
Trustpac is aware that current market conditions are attracting many traders who are eager to invest and capitalize on the latest market fluctuations, particularly in the world of cryptocurrencies, and the company aims to provide these traders with access to a reliable, trustworthy and cutting-edge trading services that is well suited to fulfill their trading needs. This broker's service offer was designed for traders of all experience levels, granting them an opportunity to trade CFDs based on cryptocurrencies, FX, shares, indices, futures, and commodities.
Considering the attractive service offer provided by Trustpac and the elevated volatility of the asset classes provided, traders who choose to sign up with this broker will probably find all of their needs met. Trustpac prides itself on a customer-centric approach and offers wide array of features and trading tools that are designed to deliver a cutting-edge, optimized trading experience.