Let's start with the basics. Are you looking to start trading online? Well, you've probably heard of XFortunes by now. This brand has made a name for itself, for a few reasons. However, is it just a solid reputation, or does this broker also manage to offer an edge?
It can definitely be said that trading is part of the company's DNA. Anyone who works with this brand can feel it from the beginning. The company's ethos is built on several core values such as integrity, innovation, and professionalism. Sounds good, right? Well, join us as we dive deeper into what this brand has to offer.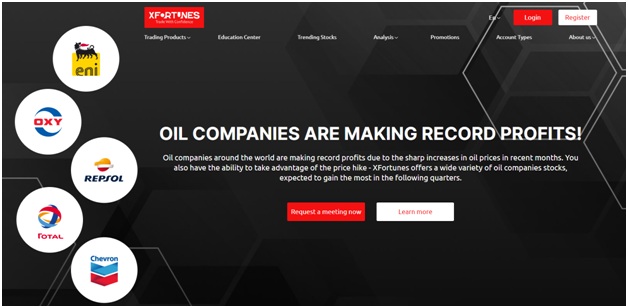 Source: https://www.x-fortunes.com/Home
Trade stocks and other instruments
One of the main advantages when you hold an account with this brand is the variety of assets that are covered currently. Stock CFDs are an integral part of the list because there is great interest in these assets nowadays, especially stocks of leading companies like Apple, Google, Amazon, Exxon Mobil, JP Morgan, and others.
However, even if stocks are now in high demand, diversification is always welcomed. XFortunes keeps this in mind and that's why it covers other interesting instruments, including currency pairs, major indices, commodities, and a generous list of cryptocurrencies.
Like with any other CFD brokerage, you can use margin, and depending on your account type, the company rewards you with different spread structures. This ultimately can have an impact on your overall trading costs.
Education center and promotions
Both beginners and intermediate traders are welcome to join XFortunes. Multiple educational resources are open to everyone, regardless of what account type you choose. Access to the education center is not conditioned by anything.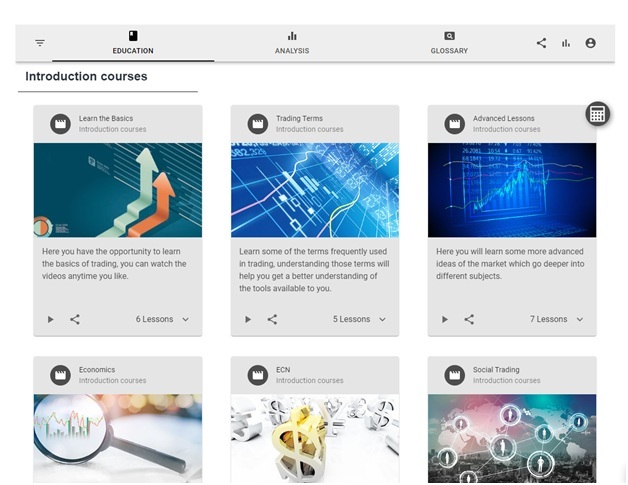 Source: https://www.x-fortunes.com/education
You can learn more on technical/fundamental analysis, trading terms, social trading, economics, risk management, and other important topics. That way, you can approach the markets well-informed. XFortunes also runs several attractive bonus promotions for new enrollers, and you should check them out before you sign up because you can probably benefit a lot from them.
Other trading tools
Specifically for stock traders, the broker grants access to a tool that analyzes trending stocks. This is a big plus, since it can help you figure out what shares have upside potential, based on what analysts are predicting.
Additionally, the account type you choose can also impact the number and quality of the trading tools you have at your disposal. Price alerts, webinars, analysis videos, and others can be unlocked if you hold a larger account. Another plus is that access to the company's WebTrader is granted to all traders free of charge. This is the platform to use every day for efficient trading.

Source: https://www.x-fortunes.com/Home
Conclusions on XFortunes
XFortunes does all in its power to make sure that anyone can start CFD trading without a fuss. When working with a broker like this one you get to use all the necessary tools and resources, so you can constantly progress by developing new skills. XFortunes is an international brand, but keep in mind that some nations have different rules when it comes to online trading, so not everyone can sign up for an account with this company.