Axia Investments Overview
Axia Investments is an online trading platform for which excellence is the essence of everything it does. Operated by Smarttool Trading SC Limited, a Seychelles investment firm, the brand is also authorized and regulated by the Financial Services Authority of Seychelles with license number SD034.
With an established track record, this CFD provider is currently relying on a rock-solid trading offer and several important values:
ØFierce professionalism – the broker has managed to develop a top-level trading arena where both beginners and experienced traders can find a broad range of efficient trading tools.
ØTrust& reliability – due to regulatory compliance, strong security mechanisms, segregation of funds, and other measures, this is a safe place to trade the financial markets.
ØAccuracy in offering – Axia Investments is well-known for providing customers with what they need and when they need it.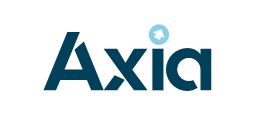 Axia Investments Platforms
Considering it believes a platform needs to be easy, convenient, and fast enough to cope with the increased market volatility, AxiaTrader Web has been developed by the broker, promising both a wide range of trading tools and a user-friendly interface.
This is a web-based solution accessible for any person interested in the financial markets, offering customized alerts, various settings so each trader can customize it based on personal tastes, or financial news & economic calendar. Desktop, mobile, or tablet, this platform has no problem running smoothly, since it operates via browser without using a lot of hardware resources.
The same goes with AxiaTrader Mobile, a solution designed for both Android and iOS devices, integrating daily signals, charting suite, risk management tools, and real-time alerts. Lastly, Axia Investments offers support for MetaTrader 5, a platform that can be installed on any type of device. Thanks to advanced technical analysis and trading tools, superb performance, and EA compatibility, traders can experience the market in a different way, due to one of the most popular platforms in the industry.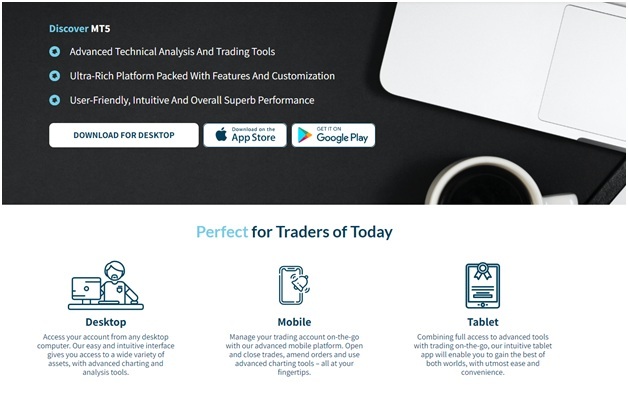 Axia Investments Markets
When it comes to diversified asset coverage, traders working with Axia Investments can take advantage of over 400 different CFD instruments. Currency pairs, indices, commodities, stocks, and other CFDs are now available, allowing a greater diversification capability. The maximum leverage is 1:400, although that will most apply to FX pairs only.
Spreads are also variable depending on the account type chosen. Ultimately, the broker does not charge any trading commission on selected assets, leaving overnight swaps as the only additional trading cost, applying when holding positions open for the next day.
All the assets covered by Axia Investments are from popular and liquid markets, the emphasis being on Western Europe and North America. London and New York are still the main financial centers of the world and the bulk of trading liquidity comes from those places.
Axia Investments Accounts
The Axia Investments account types selection was designed with the end-user in mind, aware that traders wanting to get involved have different objectives and available capital for trading. Getting started with a Bronze account is accessible, considering the initial deposit required is currently pegged at $250.  Traders choosing this option can benefit from standard trading spreads, daily market analysis, 40% stop-out level, and professional customer support.
An upgrade to either of the other 5 options available will unlock a broader range of trading features, including welcome bonus, trading signals, trading tools, and other premium services.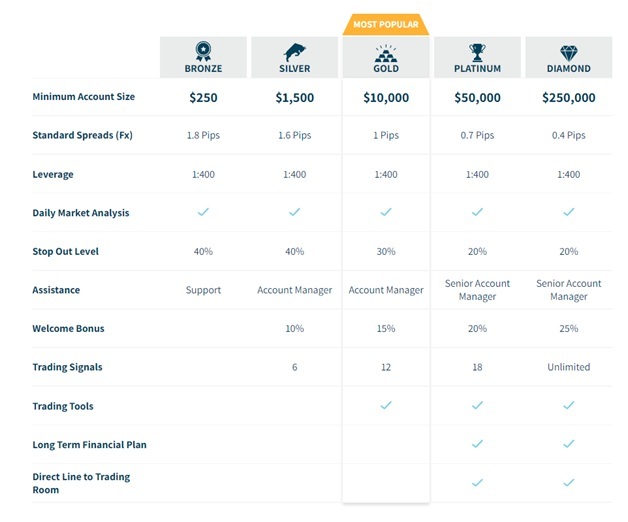 Axia Investments Customer Support
Axia Investments claims to be always at the customer's service, offering convenience via a suite of services designed to provide professional conditions. Traders wanting to get in touch with a representative have plenty of options available, including phone or email. The FAQs currently posted on the broker's website provide fast access to some of the most common issues.
Also, it is important to note that starting with the Silver account, registered customers will benefit from the support provided by an account manager.
Axia Investments Bonuses and Promotions
At the time of writing, Axia Investments runs a welcome bonus promotion, offering bonuses ranging from 10% (Silver account) up to 25% (Diamond account). Terms and conditions apply as usual. On top of it, there is also an affiliates program. Axia Partners is a solution for traders wanting to generate extra income by bringing in new traders. The broker offers a broad range of tools, including professional banners & mailers, a dedicated account manager, and personalized assistance.
Axia Investments Premium Features
Rewarding customers who deposit the most funds in their trading accounts, Axia Investments is a place where premium features are also provided. Available mainly for Platinum and Diamond accounts, senior account manager, unlimited trading signals, both can take trading to a whole new different level.
Financial markets are increasingly challenging, and these resources can provide valuable insights, given there is a team of experts working at Axia Investments, ensuring traders can squeeze all the value offered by the features and tools currently available.
Pros and Cons
The option to choose between 5 different account types
Support for both proprietary trading software and the popular MetaTrader 5
Axia Investments offers competitive spreads on all 400+ CFDs available.
Silver accounts don't get access to trading tools and long-term financial plan
The broker is mainly focused on the GCC countries
There is still room to expand the asset coverage.
Final Thoughts
Axia Investments proves to be a highly reliable and trusted trading brand, given it is authorized and regulated by the FSA, keeps customer funds in segregated accounts, and offers plenty of other security features. Trading CFDs at a time when there is increased market volatility is one of the optimal ways to take advantage of price fluctuations across the board.
The offer assembled by the broker is both competitive and in line with the latest market requirement. As of lately, MetaTrader 5 has been integrated into the platform offering, unlocking access to a popular trading software used by millions of traders worldwide.